GUA SHA STONE
The Uma Ghosh Gua Sha stone is a special facial massage tool design to tone and relax the facial muscles and replenish the skin. Unlike the common Gua Sha tools made from materials like jade and quartz, Uma Ghosh Gua Sha stone is made from a Black Bian stone, a stone known for its healing wonders on the body. The stone has been carefully constructed after extensive research to specifically to hit the right spots on your face and neck, helping to lift and tone your skin and muscles.
Known for being one of the first five ancient medical practices, the Bian stone was made in the Cretaceous period when meteorites hit the Earth. This special stone is found to have 30 elements like Calcium, Manganese, Potassium, Zinc, Sodium, etc which are essential for the human body. When the stone rubs against the skin, it produces more ultrasonic impulses than any other stone. These impulses help boost blood flow, assist with lymphatic drainage and removes extra fat, increasing the oxygen flow and nutrients in your skin and making your skin look healthier and younger.
Caution: The stone is fragile and can break if dropped on a hard surface. Please store it in a soft pouch and keep it in a safe place.
Ingredients list:
100% Black Bian Stone
Please note that a Bian stone is a carefully handcrafted stone and can break if not handled with care and caution.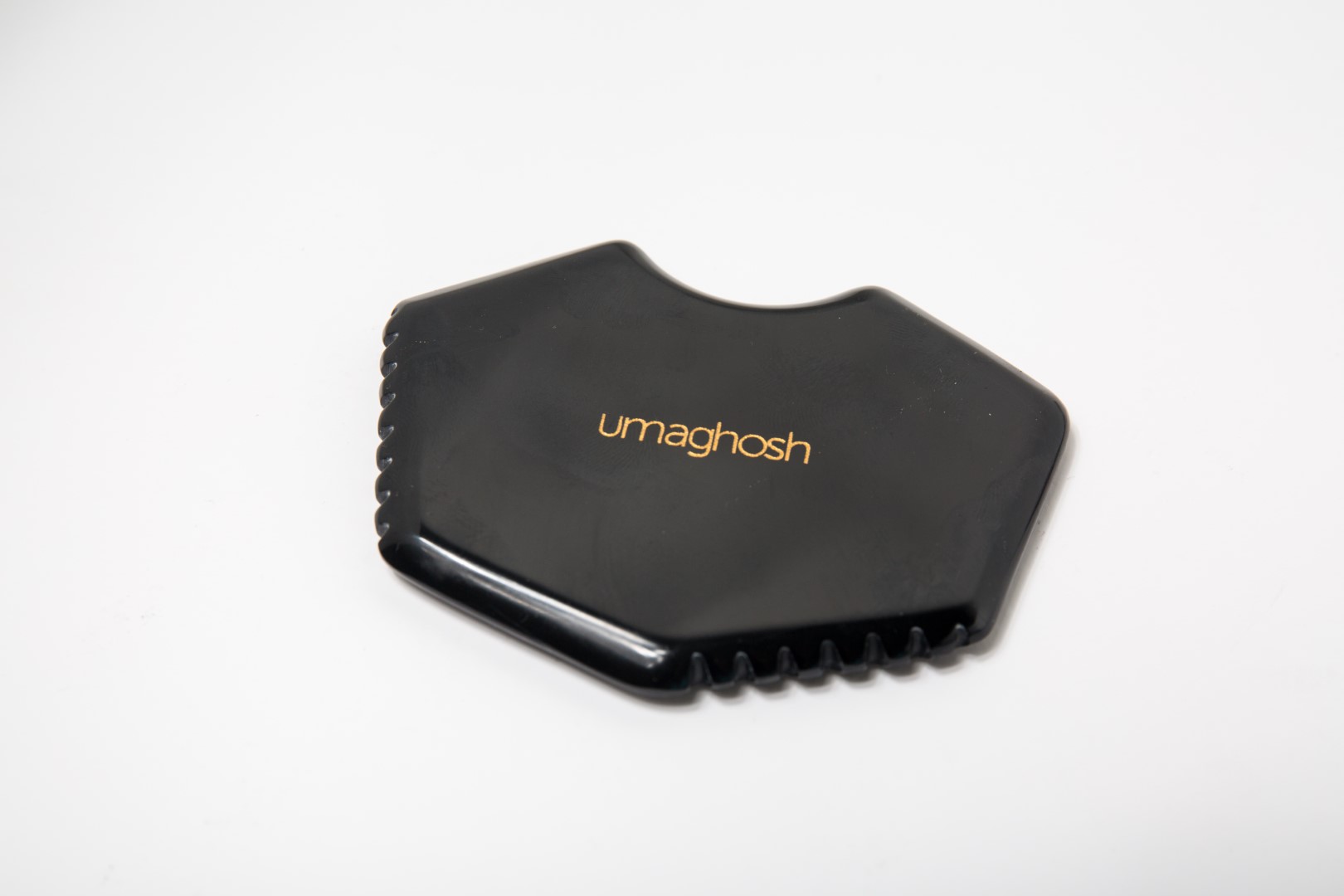 THE ARCHITECTURE OF THE UMA GHOSH GUA SHA STONE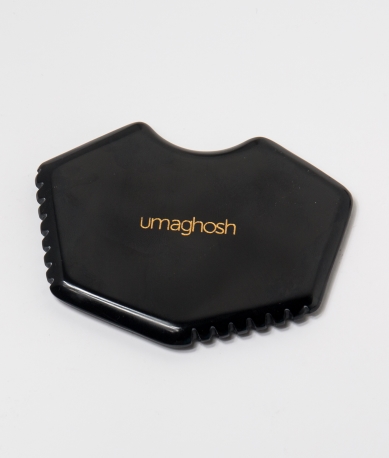 The U-Shaped Edge
Wraps perfectly along the jaw, back of the neck, the brow bone and the cheekbones and helps tone these areas.
The Small Flat Edge
This edge is for the sensitive under-eye area and increases blood circulations around the eyes and helps with puffy eyes and dark circles.
The Pointy Edge
The Pointy Edge is for the acupressure points around the face and helps release the tension
The Comb Edge
It improves blood circulation in your face and helps boost collagen by replenishing the flat surfaces of the skin
The Short Edge
This edge helps with the sinuses and stimulate blood flow
The Long Edge
The Long Edge is for muscles on the front and side of the neck and cheeks area.
How to Use
To reap the maximum benefits of Uma Ghosh Gua Sha Stone, learning the correct technique is elementary. To help you learn this technique, you can follow Uma on Instagram (umagd) and YouTube (The Uma Show) where multiple techniques are available. And if you're interested in the extensive training of Gua Sha techniques, join her Gua Sha workshop.
Also, if you want to make holistic skincare practices for better skin, you can become a member of Uma's Holistic Lift Lounge where she teaches holistic skincare techniques every week.
It's important to make it a part of your routine to reap the best results. From 2-3 times a week use to daily use will deliver good results.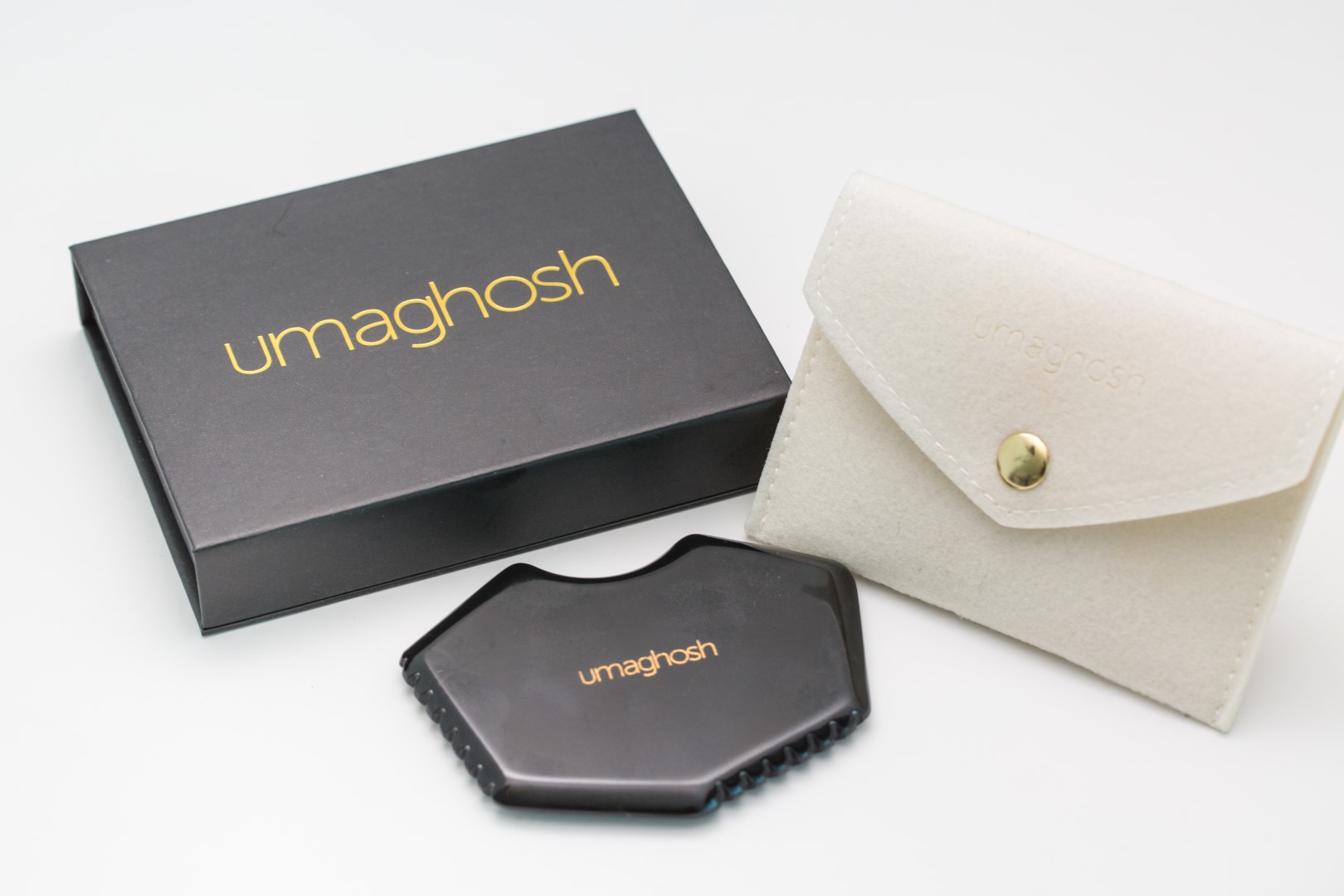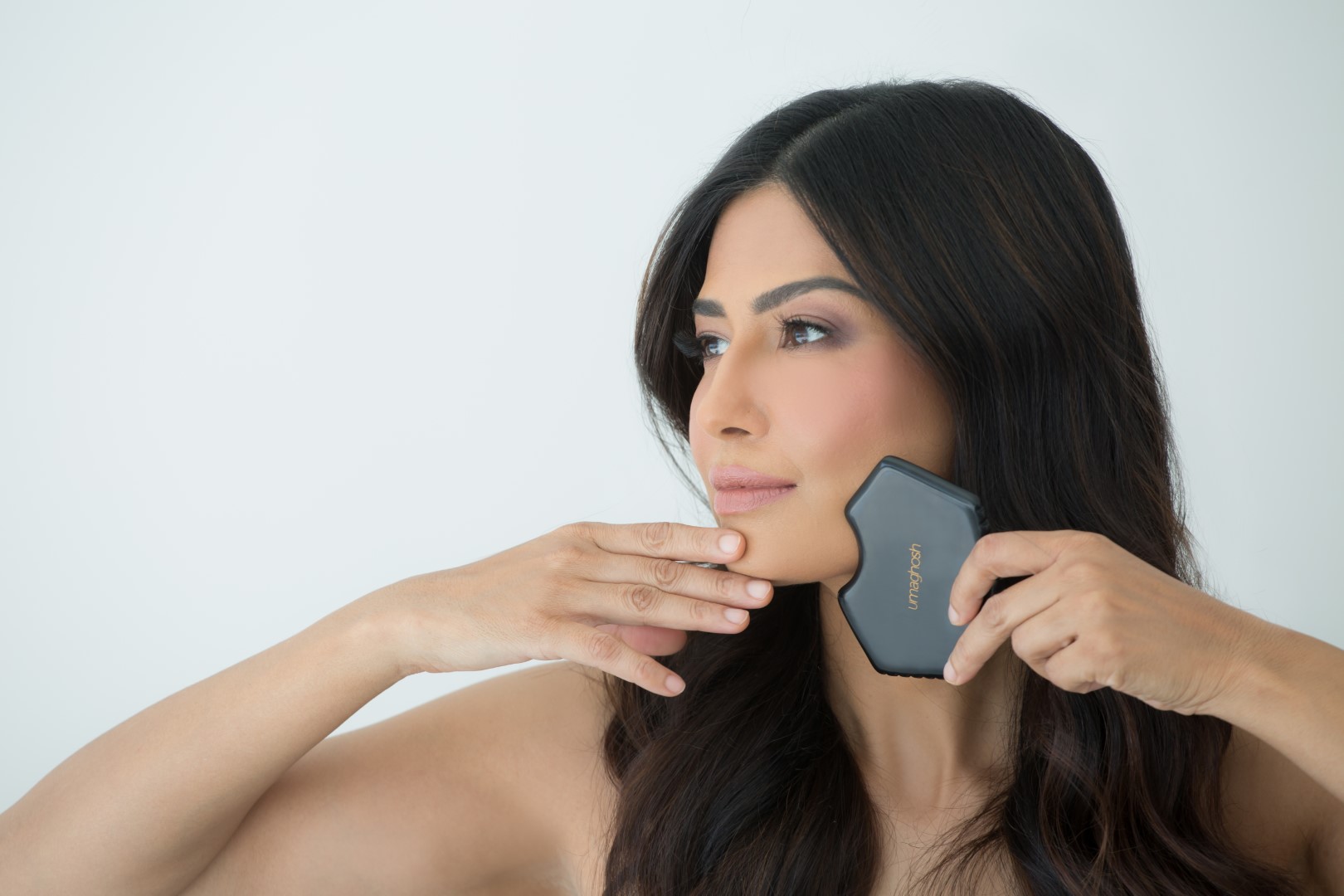 Results
This Gua Sha stone made out of Bian stone has been specifically designed to deliver instant results and stronger facial results with regular use over a period of a few months. Gua Sha Stone will prove to be an easy and quick solution to puffiness and fine lines over the face. With regular and long-term use, the following results can be observed:
Fewer Wrinkles and Fine Lines: by improve blood circulation, boosting the collagen and releasing the muscle tension
Healthy Complexion: Stimulating oxygen flow and acupressure points
Plump Skin: By opening blocked areas of the face to better blood and oxygen flow
Minimized Pores: Draining the lymphatic nodes
Clear Skin: By Detoxing the lymph nodes and improving healthy microcirculation
Natural Face Lift: By regularly massaging the facial muscles to sculpt and tone
HOW TO CLEAN
Uma Ghosh Gua Sha stone is quite easy to clean and should be cleaned daily.
To wash your Uma Ghosh Gua Sha Stone, use any of the following:
Hot water and soap (Ideal)
Rubbing Alcohol
Essential Oil Spray
Caution: The stone can be quite slippery when it is wet, soapy or oily. It can easily slip and break if it falls on a concrete surface. We recommend you to place a towel or a cloth underneath when cleaning the stone.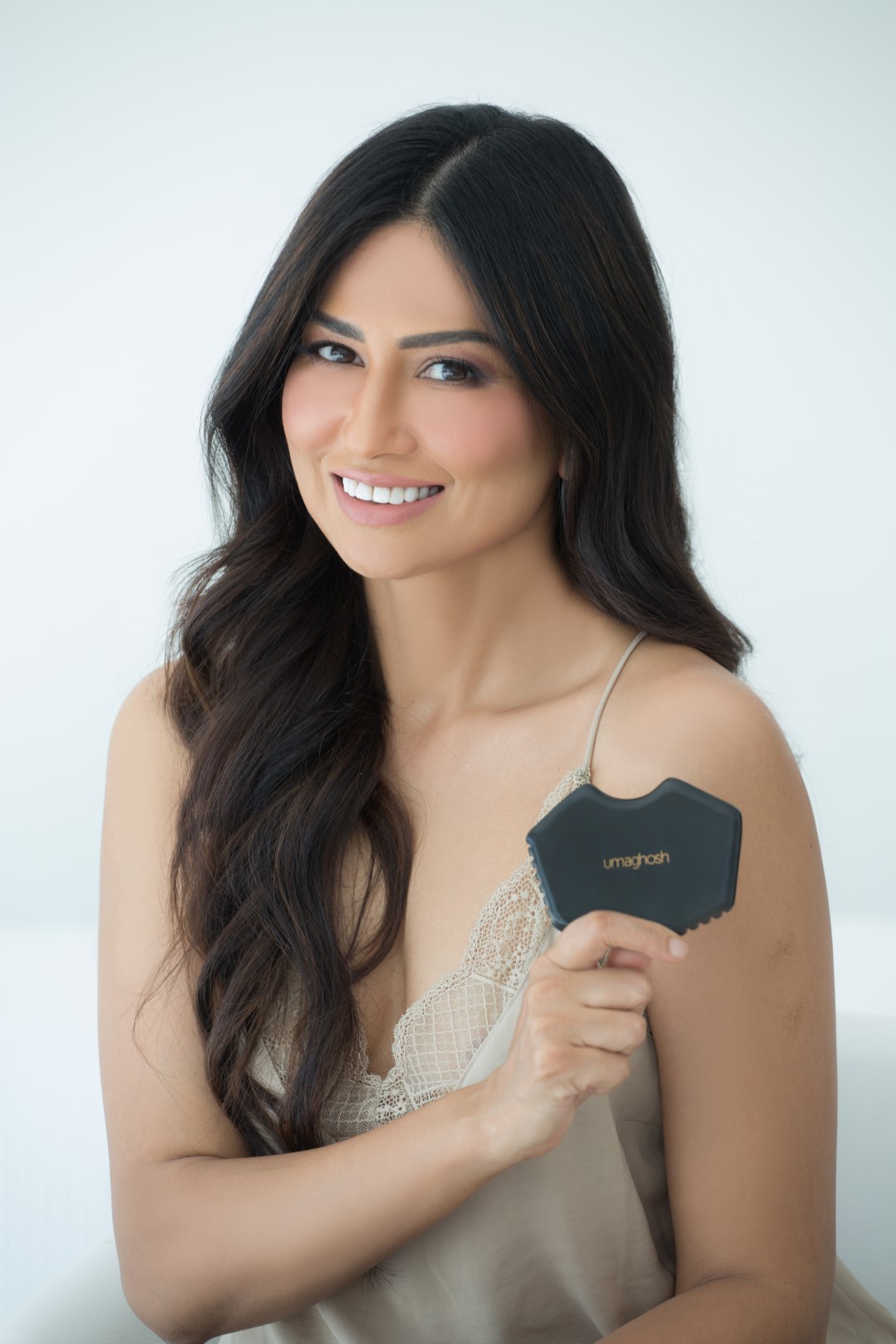 Notice
Uma's Facial Gua Sha tool has been carefully hand-constructed with 100% natural Black Bian stone.
Handcrafted products often feature some irregularities and minute flaws. You may find small differences and inconsistencies in colour or texture but they are not defects. These inconsistencies will not affect the use, application or safety of the Gua Sha tool. These are only signs that our product is not mass-produced and is actually handmade as claimed.
Uma Ghosh Gua Sha stone will not be considered for a return or an exchange
FAQ
Is Gua Sha stone safe to use?
Yes, the Gua Sha stone is completely safe to use especially if you're using it right.
How long does it take for Gua Sha to work?
You will definitely notice changes instantly on your face. Your face will feel depuffed and a little lifted. But proper and more prominent results will start to appear with regular use after 2-3 months.
Is Gua Sha safe to use during pregnancy?
Yes! Gua Sha stones are completely safe to use during pregnancy as long as you're only using it for your face and neck. For any other part, please consult your doctor.
How much pressure should I be using with a Gua Sha stone?
Soft, gentle strokes are sufficient when it comes to Gua Sha stone. But you have to use feather-like touches with your under-eye skin since it's really thin.
reviews for GUA SHA STONE
[woocommerce_review_form id="8327″]
[woocommerce_reviews id="8327″ product_title="GUA SHA STONE" ]